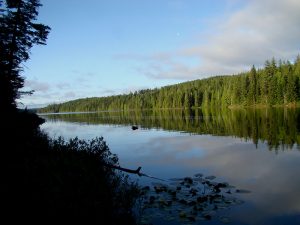 Gosling Lake Recreation Site is located on the south end of Gosling Lake. 
The gps coordinates for the lake are: 50°03'28.1″N 125°30'10.4″W.
This free recreation site consists of 5 campsites and a couple of clear areas that could hold a camper.
There are fire rings, picnic tables, pit toilet and a gravel boat launch with  a run down dock beside it.
This site is popular with users of the Sayward Forest Canoe Route.
Situated among the trees, the campsites provide protection from the windy summer days.
A maintained campground, Gosling Lake Recreation Site as of this writing (May 2019) is still free.
Located close to Boot Lake and Gosling Bay on Campbell Lake the recreation site is ideal for exploring.
There's a trail that leads from the south end of the lake takes you to Gosling Bay on Campbell Lake. 
A beautiful First Nations carved hand rail attached to a small foot bridge shows the way to the trail.
The hand rail received some scrapes from canoes and kayaks while crossing the bridge. 
But the scrapes are cosmetic and don't wreck the visual beauty of the carvings.
The dock beside the boat launch could do with a makeover but nevertheless still provides a platform to dock from.
It also allows for swimming and fishing from the dock.
Northern Campground on Gosling Lake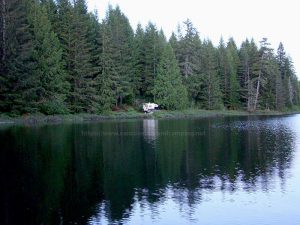 Another campground at the north end of the lake provides two campsites.
The road into them is rough from runoff water during heavy rain events creating a deep rut in the road.
Not recommended for vehicles with low clearance as you will surely bottom out.
Half way down the road is a campsite on the left with a picnic table and rock fire pit.
A little further is a small pullout where you could turn around if it is not being used. 
Once you get to the bottom of the road there is a small campsite at the lake.   
It will be tough to turn around here as the campsite has an incline to it above the actual road.
Therefore, I recommend only using a car tent, camper truck, SUV or van here for ease of mobility.
There is a rock fire pit and room to launch a car top boat, canoe or kayak.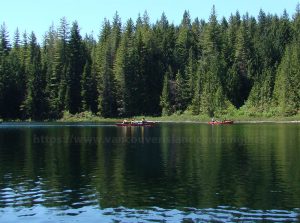 A family created a memorial to their deceased father who obviously loved the lake.
Please respect it because I assume they spread his ashes there.
At this end of the lake is the portage to continue on to the next leg of the Sayward Forest Canoe Route.  
While I stayed here I saw many canoes cross in front of the campsite on their way to the portage trail.
Sounded like everyone was enjoying their adventure while paddling across the lake.
I heard loud excited voices and laughter from everyone I seen canoeing the lake.
A beautiful view of the southern end of the lake with mountains in the background awaits you from this end of the lake.
Fishing at Gosling Lake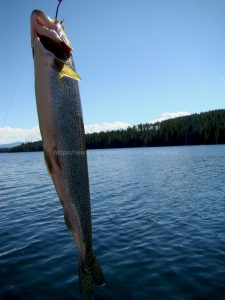 While I was at Gosling Lake, fishing was good and fun. 
Caught and released a lot of pan sized Cutthroat Trout but never seen a big one.
Gosling Lake was fertilized during the years of 1993 to 1995 and stocked with Cutthroat Trout from 1978 and 2006.
Most of the fish caught during my trip took a willow leaf gang troll rig with a worm.
However, I did surprisingly well flyfishing with a mayfly pattern also.
I caught fish everywhere I trolled however, flyfishing seemed more productive near the shoal areas.
Had a couple of wicked strikes while flyfishing which made me think that the lake possibly holds some nice sized trout.
Unfortunately for me, my hooking skills need fine tuning when flyfishing.
I didn't have much luck when using lures and spinners but did see fish follow them to the boat.
Tried changing my retrieval speed with small jerks of the rod now and again but still no luck.
Gosling Lake is about 62.5 ha in size with a maximum depth of 40 m (131 feet). 
The lake is 225 meters above sea level and 3000 meters (1 3/4 miles) long.
Gosling Lake is a pretty lake with minimal clear cuts visible from the water.
How to Get to Gosling Lake Recreation Site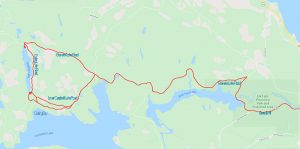 As with most lakes in this area, the best way to access them is via Brewster Lake road and Lower  Campbell Lake road.
Head west from Campbell River (hwy 28) and turn right onto Brewster Lake road at the top of General Hill. 
From here you will cross over the John Hart dam and turn left onto Brewster Lake road again. 
Look for the Loveland Bay Provincial Park signs while driving down this road.
Eventually you will come to a crossing (11 km) where Lower Campbell Lake road crosses Brewster Lake road.
You can turn left here and follow Lower Campbell Lake road to Gosling Lake road and turn right.
At this junction you only have a few kms to access the Gosling Lake Recreation Site.
Or you can keep straight on Brewster Lake road and turn left onto Gosling Lake road which crosses Brewster Lake road.
Within a few hundred yards on Gosling Lake road is the turnoff on the right to the northern campground of Gosling Lake.
Brewster Lake road eventually meets with Menzies Main by Brewster Lake just below Apple Point Recreation Site.
You can turn left onto Gray Lake road or right onto Menzies Main to access more campgrounds and lakes.
If you're looking to camp this area this road provides access to other camping opportunities in case sites are full.
Use the form below to find out how to get to Gosling Lake Recreation Site using Google Maps.
Summary of Gosling Lake Recreation Site
All in all, Gosling Lake Recreation Site is a great campground for the whole family.  There is lots of room for the children and pets with fishing, hiking and swimming for activities.
This spot is popular during the summer months as is all the lakes in the area. But if you plan ahead and pick a better time in the spring or fall, you should get a campsite.
Well maintained this recreation site is still free as of this writing (May 2019). The dock beside the gravel boat launch could use a rebuild but still works okay.
I would like to see another pit toilet also but that may or may not be doable depending on funds.
What I like best about Gosling Lake Recreation Site is the closeness to a lot more campgrounds in the area. 
You are within 45 minutes or less of 20 or more campgrounds to choose from if this site is full.
Lower Campbell Lake alone has many campgrounds both free and paid to choose from.
Northern Campground
I do not recommend the northern campground on Gosling Lake for larger camper vehicles due to the cramped space. 
The road may not be the best during a rain event for any vehicle venturing down there.
I did alright with my 4x4 truck/camper but it took a bit of effort to turn around at the lake.
Fishing is great in all parts of the lake. Stocked with Cutthroat Trout, there seems to be no end to the fun using all the means of tackle at your disposal.
If you love to canoe or kayak than this lake is for you also. There is portage trails on both ends leading to other lakes which form part of the Sayward Forest Canoe Route.
I believe you will be happy with your choice of camping on Gosling Lake and I know I will definitely be back.
Please Leave Comments or Ask Questions Below
Don't be shy, please leave us some comments good or bad because it is okay.  We love hearing from you regarding our website, articles and your opinion on what can make us better.  
We'll always reply within 48 hours to your comments or questions.  Please be courteous and polite even if you disagree with something as no one likes a bully.
Also don't forget to share us with your favorite social media site using the buttons at the top and bottom of every page so we can get the word out there about the beautiful camping opportunities that exist on Vancouver Island.