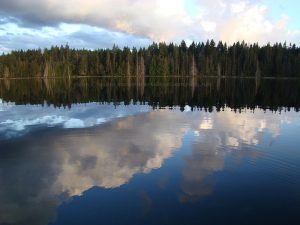 Merrill Lake Campground on Vancouver Island just northwest of Campbell River is a very pretty campsite. 
GPS coordinates are: 125°33,30″W, 50°3,40″N.
Nestled among older second growth and a few old growth timber, Merrill Lake Campground is very serene.
There are only two campsites with one not so good (except for a tent). The preferred campsite is by the lake as it allows for a longer camper and a tent if necessary.
A natural gravel boat launch will fit a larger boat trailer.  Depending on the size of your vehicle there is  enough room to turn around if needed.
There are two picnic tables, fire pits, and a pit toilet. The picnic tables are not the best but one is definitely better than the other.
Therefore, Recreation Sites and Trails BC could do some maintenance to improve the other campsite. This would provide a better experience for those who camp in this spot.
In my opinion, adding another couple of campsites is possible without removing any older trees on the south side of the campground.
There is one other campsite located at the end of the lake where the stream leaves.  The campsite lies on an old logging spur and has a fire pit. 
You can probably fit a couple of campers (or RV's/Trailers) in this site with it's wide grassy area adjacent to the road. A gravel boat launch is across the Merrill Lake Main from the campsite.
There is logging in the area and I noticed some logging boundary ribbons on the other side of the road. At this time logging hadn't started yet.  It will have an impact on the view from the water when completed.
Wildlife at Merrill Lake Campground
I stayed at the Merrill Lake Campground twice.  Once in mid May and the other in mid August of 2019.  I visited more times but both campsites were full.  Obviously a popular campground with the locals from Campbell River.
Two loons, two osprey and an owl paid me a visit during my first stay.  The owl I actually coaxed in by mimicking his call. I could hear him getting closer for a while, than I heard nothing. 
A short time later he called from the tree right next to me.  This made the hair on the back of my neck stand up.  But it was one of the coolest experiences of my life. I spooked him away when I went for my video recorder and never heard him again.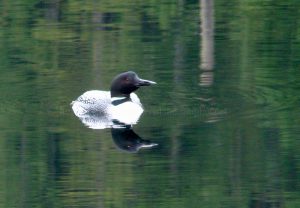 The osprey never got close enough for a picture but I did see them fishing now and again.  They would avoid me when ever I got too close.  A very pretty bird indeed.
The two loons were very curious and I continually heard their calls day and night.  There is something very calming about a loon's call. 
During my second stay I only seen the two loons but not the osprey or owl.  I did hear the osprey once or twice in the distance.
When I camped in May, the weather was typical spring time weather. It rained the first day and the second day there was sunshine. With the sunshine came the wind. I only stayed for three days that trip.
Merrill Lake Campground Second Time Around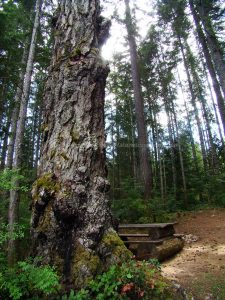 My second camping trip to Merrill Lake Campground in August was better. The high pressure system stayed for a couple of days than some clouds moved in. 
The winds are very predominant with high pressure. Much better boating experience with overcast or cloudy days as the lake is calm.
A large old growth Fir separates the two campsites. Lightening or wind caused some damage to the top of the tree.  Not sure which, but the tree is a nice touch to the wilderness experience.
There are a few larger old growth Red Cedars in the area also with trails leading around the campgrounds to view them. 
I noticed a makeshift lean to made out of cedar bows next to an old stump that some kids or another camper made to have shelter.
Whomever built it did a good job because I remained dry during a short burst of rain when I climbed inside. I will check to see if it remains during my next visit the following year.
This time I heard the whistles of the logging operation in the area so be careful when travelling the roads. This should go without saying on all backroads on Vancouver Island.
Fishing at Merrill Lake Campground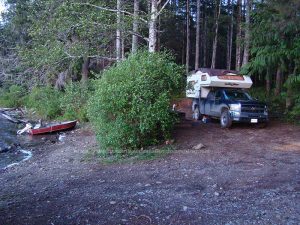 Fishing at Merrill Lake Campground is a tough go.  I had a few strikes but never landed a fish. 
I saw quite a few nice trout surface but none of the techniques I tried seemed to work.
Merrill Lake is a shallow lake which may contribute to the tough fishing. 
The lake is only 29 meters (95 ft) deep. The deepest part of the lake resides in front of the campgrounds. 
Merrill Lake is 260 meters (853 ft) above sea level with a perimeter of 4040 meters (2.5 miles). 
Cooler weather days would probably be more productive for fishing.
I did talk to a few locals and other anglers who confirm there is some nice trout in the lake.  It must have been me so I'll have to work on that.
Just means that the next time I go, I will be more determined to be successful. Wink Wink!
If you go fishing and have a great day comment below and rub it in!
Fish and Fish Habitat Reconnaissance
The Young Canada Works Student Salmonid Program and Campbell River Junior Secondary School completed a survey in 1978.
In it, their results show an average size of Rainbow Trout to be 18 cm (7.08 in) and an average weight of 72 gm (2.5 ounces). The largest Rainbow Trout weighed 138 gm (5 ounces) and measured 22.9 cm (9 in) perfect pan size.
In comparison, the average length results for Cutthroat Trout were 27 cm (11 in) and average weight of 205 gm (7 ounces).  The largest Cutthroat Trout weighed 486 gm (close to 2 pounds) and measured 35.5 cm (14 in).
The stomach contents of both species predomintly showed flies, nymphs and stickleback. While I was there, I witnessed a lot of stickleback near the shoreline.
Although this is an old survey some of the data is pretty accurate based on my observations. Most of the trout I seen surfacing and swimming under my boat were within the defined size ranges.
And the aquatic vegetation around the lake itself seem to be the same as recorded.
I also witnessed a lot of insects flying and swimming in the water around me.  Before you state the obvious, I forgot my fly gear both times I was there. Duh!!
The stocking reports for the area name Boot Lake as the closest lake stocked with Rainbow Trout. Because the outlet of Merrill Lake flows into Boot Lake it is obvious the Rainbows migrate into Merrill Lake.
Cutthroat Trout probably migrated from Campbell Lake which is the end of the watershed flow from Merrill Lake.
How to Get There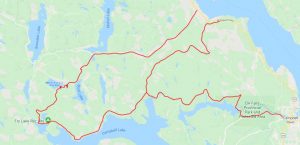 To get to Merrill Lake Campground, you can either take the Brewster Lake Road, Iron River Road or Menzies Forest Service Road. 
The lake is roughly 29 km from Campbell River. 
To access the Brewster Lake Road, travel out of Campbell River to the John Hart Dam and cross over it. 
Turn left onto the access to Loveland Bay (also Brewster Lake Road) just a short distance after the dam crossing.
Travel a ways until you get to the Lower Campbell Lake Road and turn left.  Drive until you get to the Merrill Lake Main roughly 500 meters past Orchard Meadows Recreation Site and turn right.  You will also pass the Fry Lake Recreation Site along the way.
Another route would be to travel from Campbell River towards Sayward and turn left at Mosaic Log Sort onto the Iron River Road.
Turn right at the Snowden Forest Service Road which eventually turns into the Lower Campbell Lake Road.
And lastly as Google Maps will show you, turn left onto the Menzies Forest Service Road off of highway 19 towards Sayward.
Look for the Morton Lake Provincial Park signs on highway 19 as that is the same road. Turn left onto Lawier Lake Road just below Mohun Lake.
Use the form below to find out how to get to Merrill Lake Campground using Google Maps.
Summary of Merrill Lake Campground
In conclusion, Merrill Lake Campgrounds are a great place to stay and explore.  They are within a short distance to other lakes like Boot Lake, Brewster Lake, Campbell Lake, Gosling Lake, Gray Lake, Mohun Lake and Morton Lake. 
The campground is very popular and difficult to obtain during the summer months.  However, if you are able to get a spot you won't regret it.
There is no fee to camp but that could change if Recreation Sites and Trails BC complete upgrades. Even so it would be worth the fee to add another campsite or two and new picnic tables with fire rings.
Please Leave Comments or Ask Questions About Merrill Lake Campground Below
Above all, don't be shy.  Please leave us some comments good or bad. It doesn't matter as we love hearing from you regarding our website, articles and what you'd like us to do to make this website better suited for your needs.
We'll always reply with 48 hours to your comments or questions. Please be courteous and polite though even if you disagree with something as no one likes a bully.
Also don't forget to share and like us with your favorite social media site using the buttons at the top and bottom of every page so we can get the word out there about the beautiful camping opportunities that exist on Vancouver Island.