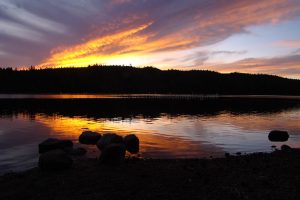 Gray Lake Recreation Site, where solitude and adventure await you.  Nestled between Brewster Lake and Fry Lake lies Gray Lake.
A beautiful lake with a main campground on the south end and a more secluded campground on the northeast side.
Both campgrounds are beautiful and among the trees. 
Situated on the south end of the lake, the main campground is the largest.  Between May and September there is a $15.00 fee per night.
There are 8 campsites, pit toilets, 2 gravel boat launches, picnic tables and fire rings. A small dock extends next to the main gravel boat launch.
This end of the lake is shallow therefore swimming here is better. The water is usually always warmer at this end of the lake. 
There is a swimming platform anchored further out from shore. The water depth is only 25 feet with a muddy, weedy, sandy bottom. 
Brittany Bay Recreation Site
Brittany Bay Recreation Site on the northeast side of Gray Lake is more isolated.  There are only two campsites and the best one is on the waterfront. 
The second campsite is a bit further from the lake and above the first campsite. There is a pit toilet, sandy beach, picnic tables and fire rings.
Best of all this recreation site is still free at the time of this writing (Aug 2019).
Someone has made a series of steps down to the lake because of the steeper slope to it.  In spite of this, I dragged my aluminum boat up and down the gravel slope. 
Not easy to do but doable and there is a lot of room on the beach for both campsites.
At the time of this article someone had put together a makeshift dock using a wooden pallet.  It sufficed to allow me to tie up my boat without dragging up the beach.
While I was at Brittany Bay I saw two beavers working the shoreline nose to tail. Not sure what they were looking for but they didn't seem to be bothered by my presence.
A couple of Kingfishers also worked the shoreline feeding on the plentiful Stickleback that seemed to be everywhere.
At one point during the day I watched the osprey catch fish off of the surface of the lake.  They were a bit skittish of me though so I couldn't get close enough for a good photo.
Squirrels constantly scrambled around me trying to figure out what I was up to but didn't get to close.  Offered them some shelled peanuts but they didn't bite.
Fishing at Gray Lake
The first day I arrived at Brittany Bay Recreation Site I just lounged around as it was late afternoon.  The next morning I went out in the boat to try some fishing. 
The first fish I caught was a beauty that kept leaping out of the water.  When I got it close to the boat I saw it was about 20 inches and a Dolly Vardon Trout.
Because I always use barbless hooks a little larger than most, I released it.  The fishing regulations for Vancouver Island require catch and release only for Dolly Vardon.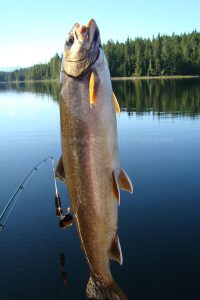 Remember, these fish fight very hard and it is important to get them back in the water asap.
You don't want to tire them out too much.  Get them to the boat as fast as you can.
Use a soft mesh net if you have to use a net.  This will help ensure their survival and allow us to keep fishing for them.
My second day of fishing produced a very nice Dolly Vardon in the 2-3 pound range.  The rest of the day saw me release more Dolly Vardon but no Cutthroat Trout.
The third day due to the lack of Cutthroat Trout I decided to switch up my tackle.  I stopped trolling and started fly fishing. 
I caught a lot of small Dolly Vardon and a few Cutthroat Trout.  The Cutthroat Trout were about 6-9 inches or pan fry.
A low pressure system moved in which changed things up a bit.  The fish stopped biting, the bugs started biting and the temperature dropped significantly.
Never underestimate the consistent winds which prevail in this area.  They are the reason the bugs aren't bad and you won't overheat on a hot day.
Sunset Over Gray Lake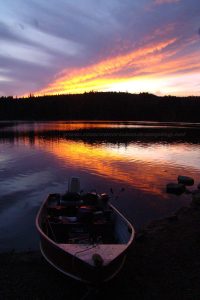 Wednesday evening saw the most gorgeous sunset I've seen in a while.  I reeled in my gear and grabbed my camera. 
The colors and cloud patterns were amazing and I couldn't stop shooting. 
I started shooting photos from my boat and finished up on shore.
The reflections in the water were amazing due to the orange and red colors of the sky.
The way the light bounced off of the clouds was a sight to behold.
Everything it touched seemed to gleam with the colors of the sunset.
The photo shoot lasted about twenty minutes but will stay forever in my memories.
I used up all the memory and battery life in the camera.
How to Get to Gray Lake Recreation Site
There are a few ways to get to Gray Lake Recreation Site. Depending on the vehicle you drive, a shorter but rough way to get there by taking the Menzies main line. This section of road wasn't getting grading that often in 2019. 
Once you arrive at Brewster Lake look for the Gray Lake main line. It will be just past the Apple Point Campsites.
You are about 2km from Gray Lake (Brittany Bay Recreation Site) at this point. 2 more kms down the road is the main Gray Lake Recreation Site.
Another way is to take the Iron River Forest Services road to Snowden Forest Service road and turn right.  Follow this road until it crosses the Brewster Main line. 
Keeping straight you are now on the Campbell Lake road. Follow this road until you reach the Gray Lake Main line and turn right. You are only a couple of kms from the main Gray Lake Recreation Site at this junction.
The last way and longest way is to leave Campbell River and head for Gold River.  At the Strathcona Dam turnoff (23km) turn right. 
Cross the dam and keep to your left on the Green Creek main line.  At the Marsha Lake turn off, stay to your right.  The road turns into Campbell Lake road and you'll turn left at the Gray Lake Main road.
Use the form below to find out how to get to Gray Lake Recreation Site using Google Maps.
Summary of my Trip to Gray Lake Recreation Site
Gray Lake Recreation Site stands out as a must see camping adventure.  I found the main campground to be more noisy due to the larger crowd. 
Brittany Bay was my favourite even though getting my boat to the water was a chore. I don't recommend coming to this free campground with large trailers or motorhomes. There isn't much room to turn around when the site is full.
A truck and camper, small RV, van or suv with a pop up tent trailer would be the best for Brittany Bay.
The fishing was excellent for Dolly Vardon Trout. The best place to fish is in front of Brittany Bay campsites where the lake is deepest. I sounded 79 feet at the deepest part of the lake.
I caught my fish at 13′ and 21′ using a Scotty Downrigger along with a rod/reel combo. A bronze colored Willow Leaf with a worm seemed to produce best.
At one point, I used a flying termite/black ant pattern fly to attract some smaller Cutthroat Trout. There seemed to be a hatch occurring which triggered my choice.
If you find all the campsites full there are other lakes with recreation sites nearby to visit and try to find a spot. In addition to these sites Campbell Lake offers a bunch of campgrounds to choose from.
All in all, Gray Lake Recreation Site provides a unique camping experience for the whole family. Due to its popularity for swimming and canoe route traffic it is busy during the peak summer months.
Please Leave Comments or Ask Questions Below
Don't be shy, please leave us some comments good or bad because it is okay.  We love hearing from you regarding our website, articles and your opinion on what can make us better.  
We'll always reply within 48 hours to your comments or questions.  Please be courteous and polite even if you disagree with something as no one likes a bully.
Also don't forget to share us with your favorite social media site using the buttons at the top and bottom of every page so we can get the word out there about the beautiful camping opportunities that exist on Vancouver Island.