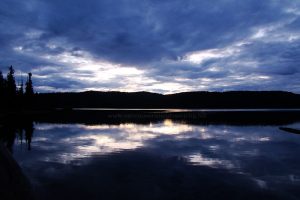 Brewster Lake campgrounds consist of 4 separate campgrounds with their own campsites.
Situated at the south end of Brewster Lake, they range in size from 3 campsites to 19 campsites.
All of them are within 2 kms of each other and have a natural boat launch for smaller boats.
Brewster Lake campgrounds are pay sites and maintained by Sites and Recreation.  Starting May 15 – Sept 2 (or the Labour Day long weekend) they cost $15 per night.
These are awesome Vancouver Island campgrounds and well maintained. Perfect for the whole family which provides an excellent wilderness adventure.
Each campground follows the same rules:
Brewster Lake Campgrounds Day Use Rules
Please follow the rules below to ensure that everyone can enjoy the campgrounds and so we can continue to have access to them.
enjoy your stay to a maximum of 14 consecutive days
no abandoning shelters (pitching a tent to save a spot for the weekend etc.)
do not build long term structures without permission
return your site to its natural condition before leaving
competitive, commercial or group use requires permission
be aware of the Fire Danger Rating before lighting a campfire
don't light fires when strong winds are present
keep your campfires in designated fire rings
do not leave a fire unattended
if there are outhouses, please use them
don't empty your holding tank into pit toilets
do not throw anything in outhouses except toilet paper
please refrain from cutting tree bows for bedding or comfort
pay camping and other service fees to recreation site operator if applicable
pedestrians sometimes use roads to walk and play on so stay focused on your driving
maximum speed is 20km/h when traveling in campgrounds
never drive over vegetation as it will take too long to recover
please always wear a helmet when riding bikes, dirt bikes and ATVs
idle your motor bike or ATV in and out of the campgrounds
please keep noise to an minimum level and respect others right to peace and quiet
always obey the designated quiet time from 11:00 pm to 7:00 am
park only in designated areas and keep traffic lanes open at all times
keep your pets quiet and under control at all times
there will be no discharging of bows, crossbows, firearms, fireworks or setting traps
don't leave your game entrails anywhere in the campgrounds
Brewster Lake Campgrounds Logging History
There is a lot of logging history surrounding Brewster Lake Campgrounds as some of them were actual logging camps to house hundreds of employees.
The main camp located at the Camp 5 Recreation Site, housed 67 families and 550 workers in bunkhouses. Therefore over 21 years, this was the largest logging camp in North America.
Camp 5 boasted a ball park, coffee shop, laundry, library (over 700 books), more houses, post office and a school. The camp's power plant provided electricity to all the buildings. A water distribution system allowed for potable water and even flush toilets.
Inside an area known as the marriage quarters, the families lived in small houses and grew lots of flowers, vegetable gardens and fruit trees. Consequently, a lot of these flowers and fruit trees are still growing around the campgrounds today.
A narrow foot bridge and rail line crossed the out flow of the lake to Apple Point.
Apple Point housed the superintendant, company office, community hall, cook house, locomotive dispatch, repair shop and water tower.  And there are still apple trees on site that produce apples every fall.
The only way out of these logging camps was by steam locomotive to Menzies Bay and then by boat to Campbell River. Consequently, the total distance by rail to Menzies Bay was 22 km, then another 16 km to Campbell River. 
By the end of World War 2, over 70  miles of main rail lines and spurs existed.  Therefore, it took 5 different sized steam engine locomotives to service the rails.  In 1953, the company built logging roads and transportation by vehicles became possible.
Brewster Lake
A part of the Sayward Forest Canoe Route, Brewster Lake is one of four large lakes in the route. The other large lakes are Amor Lake, Campbell Lake and Mohun Lake.
The lake is 6 kilometers long with a maximum depth of 185 feet.  At 700 feet above sea level, it covers a surface area of 1,911 acres with a perimeter of 61,800 feet.
The lake can get very windy some days and as a result, making fishing from a boat difficult if not dangerous at times.
The lake's name came from the Honourable H.C. Brewster, a British Columbia Premier from 1916-1918.
Fishing On Brewster Lake
Fishing on Brewster Lake is very good with stocked Cutthroat, Rainbow and wild Dolly Vardon Trout.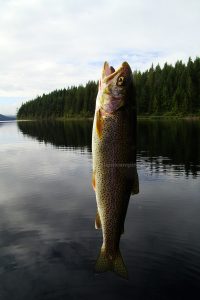 I fished the whole lake and had the most action right out front of the Brewster Lake Recreation Site.  The top end of the lake produces very well also.
I was fishing in the top 13 feet of water with great results.  Caught and released 12 fish during my stays (spring/fall).
Mostly Cutthroat Trout but had on a nice Rainbow Trout that self released at the boat.
A willow leaf gang troll with a worm attached to a 16 inch leader worked best for me.  Also had some luck with a flat fish behind the gang troll. 
How to Find Brewster Lake Campgrounds
The best way to get to Brewster Lake Campgrounds is to travel north from Campbell River towards Sayward. About 16 kms down the road you'll see a gravel road on your left called the "Menzies Main".
Turn here and go another 16 km to arrive at the entrance of the first of four Brewster Lake Campgrounds. This will be Brewster Lake Recreation Site.
Along the way you'll pass turnoffs to Mohun Lake Campgrounds, Morton Lake Provincial Park and Lawier Lake.
Once you reach the Brewster Lake Recreation Site turnoff, if you travel another 1-3 km you'll find Apple Point, Brewster Camp, Camp 5, and further down the road are the Gray Lake campsites (Brittany Bay and Gray Lake Recreation Site).
Use the form below to find out how to get to Brewster Lake Campgrounds using Google Maps.
Brewster Lake Campgrounds
Brewster Lake Recreation Site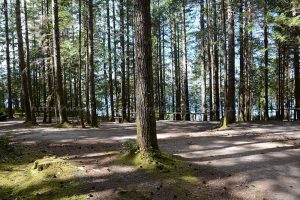 Located just 50 minutes northwest of Campbell River, is the Brewster Lake Recreation Site. It is the largest campground of the four with 19 campsites.
These 19 campsites provide a wildness camping adventure for the whole family.  Each campsite has a fire ring, picnic table and relatively level camping area.
The majority of the campsites are in the trees which bodes well for the wind which picks up during the day. If you choose one along the beach there are a few trees there also to cut the wind.
The wind controls the bugs which are a plenty when there is no wind.  Take plenty of bug juice to keep them at bay.
There are 4 pit toilets that were in very good shape and clean.  The pit toilets and picnic tables received a fresh coat of paint (2019).
There is a beautiful small beach with white sand (light brown) for swimming and launching your small boat. Lots of trails in the area to explore and fishing in the lake itself.
Apple Point Recreation Site
Roughly 1 kilometer from the Brewster Lake Recreation Site is Apple Point Recreation Site which is the second of the recreation sites in the group of Brewster Lake Campgrounds.
Apple Point consists of two separate campgrounds. The northern campground and the southern campground are only a few meters apart.  
The northern campground is more of an open grassy area type of campground and has 5 campsites. The boat launch is a natural one and definitely wide enough for a small boat trailer. It is a little steep so may be tough during a rain event.
The southern campground is in a treed area with a car top style boat launch next to the lake. You will be dragging your boat about 5 to 8 feet across a gravel path to the lake.
There are four campsites, a pit toilet, picnic tables and fire rings in this campground.
Brewster Camp Recreation Site
The Brewster Camp Recreation Site is on the Gray Lake Forest Service road just about .5 km from the Apple Lake Recreation Site.  It has two campsites separated by a short distance along the river that exits Brewster Lake and heads towards Gray Lake.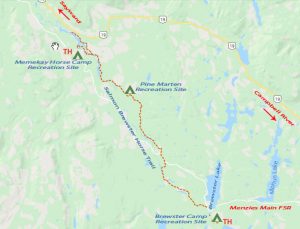 Across the road is the 34 km Salmon Brewster Horse Trail and the Brewster Horse Camp with 2 corrals. 
The site is 1.5 acres and more open than the other campgrounds in the Brewster Lake Campgrounds.
This trail opened in 2013 which connects with the Memekay Recreation Site close to Sayward on the Salmon River. 
The Memekay Recreation Site boasts over 5 acres with 11 campsites 70 feet long to accommodate horse trailers.
There are 2 horse corrals, a shelter for groups including picnic tables, pit toilets, a manure containment area and access to non-potable water.
The Pine Marten Recreation Site which is along the way between the two, consists of a small fenced in area to allow your horses to rest. 
The campsite provides a pit toilet, picnic table and fire ring. The perfect rest area along the way of the 34 km.
Camp 5 Recreation Site
The Camp 5 Recreation Site is across from the Apple Point Recreation Site. You take the wooden bridge over the outflow of the lake and turn right about 500 yards. 
The campground has 5 campsites with picnic tables, fire rings and a pit toilet.  There is a gravel boat launch that also serves as a water drainage with a nice rut to the lake during heavy rains.
Therefore, use caution when backing your boat trailer to the lake to avoid the rut in the road.
Lots of shade here as it is located under a growth of alder trees.  Mostly covered with grass, the Camp 5 Recreation Site makes a more comfortable walking experience.
To Sum Up The Brewster Lake Campgrounds
In conclusion, the four sites that make up the Brewster Lake Campgrounds are in my opinion an excellent way to camp on Brewster Lake.  However, they can get quite busy during the summer months due to their popularity. 
I've noticed that the Apple Point sites serve as a temporary spot sometimes until a better one comes up.  Not sure why this is because they're both excellent sites for a long stay with good access to the lake and surrounding area.
I definitely recommend these campgrounds for a family looking for a wilderness adventure while being close to town in case you need more supplies. Depending on road conditions you are only 40-50 minutes away from Campbell River.
Access to the sandy beaches of Brewster Lake will keep you and your family occupied and provide a lot of fun. The best beach is at the Brewster Lake Recreation Site but the one at Apple Point North is also nice.
The added benefit for all horse riding enthusiasts is the completion of the Salmon Brewster Horse Trail.  Therefore, this trail will become more popular in the future than it is now.
Other Great Vancouver Island Camping Lakes in The Area
As with all campgrounds in the Sayward Forest District, the beauty is that you are only a few minutes away from another one if the campsite you want is full.
Just south from the Brewster Lake Campgrounds is the Brittany Bay Recreation Site, Fry Lake Recreation Site, Gray Lake Recreation Site, Patterson Lake Campgrounds and Campbell Lake Recreation Sites.
Heading east you'll find the Mohun Lake Recreation Site, Morton Lake Provincial Park Campgrounds and than north of those is Amour Lake Recreation Site. 
After that, a short distances south is Boot Lake Recreation Site, Gosling Lake Recreation Site and the Merrill Lake Campground.
In other words, this makes Brewster Lake Campgrounds a great starting point for an adventure to any of the affore mentioned lakes.
Please Leave Comments or Ask Questions About Brewster Lake Campgrounds Below
Above all, don't be shy. Please leave us some comments good or bad it doesn't matter as we love hearing from you regarding our website, articles and what you'd like us to do to make this website better suited for your needs.
We'll always reply with 48 hours to your comments or questions. Please be courteous and polite though even if you disagree with something as no one likes a bully.
Also don't forget to share and like us with your favorite social media site using the buttons at the top and bottom of every page so we can get the word out there about the beautiful camping opportunities that exist on Vancouver Island.