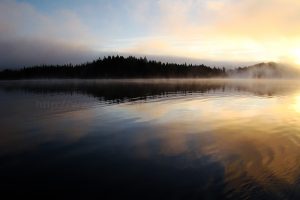 Amor Lake Recreation Site is quite possibly one of the best kept secrets on Vancouver Island.  Albeit very small the free campground offers a wilderness experience that is extraordinary. 
Amor Lake Recreation Site is located on the southwestern portion of Amor Lake. Next to the campgrounds is Amor Creek which exits the lake and runs to Blackwater Lake.
Amor Lake is part of the Sayward Forest Canoe Route. The canoe route becomes popular during the summer months therefore canoes and kayaks cross the lake regularly.  Forests surround the perimeter of the scenic lake.
Black Bears, Eagles, Kingfishers and Merganzers, travel the area while Elk bugle now and again. I heard an owl hooting in the trees which sounded a little spooky.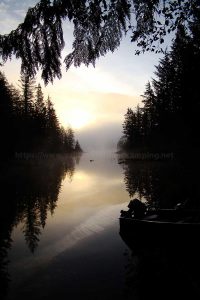 There are 5 campsites with picnic tables, 2 pit toilets and fire pits. One of the campsites is outside the main area next to the boat ramp.
The boat ramp is a gravel launch and wide enough for a boat trailer. However, during the summer months I assume the water is too low to launch safely.
I navigated around underwater stumps and logs to get to open water in October.
Amor Creek exits the lake beside the boat ramp hence the build up of debris during flood events.
One could paddle your vessel to a safer depth before lowering your boat motor. 
Amor Lake is one of the prettiest lakes I've been to with out a doubt.
Fishing at Amor Lake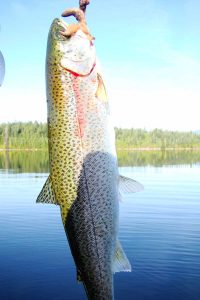 Once I got to open water, the fishing is really good and the trout are a nice size.
It didn't seem to matter what I used, I hooked into Cutthroat Trout consistently.
Consequently, the whole lake is fishy and I caught fish almost everywhere I dropped my gear.
There is data to suggest that other species of trout exist in the lake however, I didn't see anything but Cutthroat.
This could be related to the gear I tried and time of year along with time of day.
In any case, the Cutthroat provided more than enough fun for me.
I even tasted a couple for lunch and breakfast the following day.
The species of fish that inhabit the lake consist of:
Cutthroat Trout
Dolly Vardon Trout
Rainbow Trout
Kokanee
The Cutthroat Trout aggressively attacked the bait and I had to keep a couple after hooking the gills. Therefore I knew they wouldn't survive if I released them.
Amor Lake is a deep lake at 160 feet and fairly good size covering 895 acres. The perimeter of the lake stretches for 67,920 feet.
There are 7 islands on the lake with 2 of them being a good size.
Sterling Island the larger of the two offers a nice campsite on it for the canoe route traffic.
Fishing along the contours next to the islands also provided great fishing opportunities.  I couldn't seem to find any spot on this lake that didn't produce. 
Exploring Amor Lake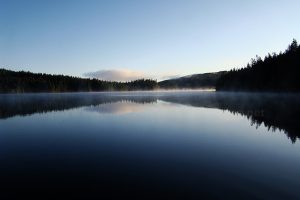 One day when the sun decided to show, I decided to go for a boat ride to explore the lake. 
At the top end is another campsite that looks like it serves as a study area.  There is a roofed shelter with wooden tables and an old pit toilet.
A google map identifies it as Amor Lake North Recreation Site.
Unfortunately, someone dragged a hot tub to the site and the cover was laying on the beach.
Can't figure out why people wouldn't take care of it so it looks presentable instead of like garbage.
Just placing it under the shelter would have sufficed for most advocates of leaving the area clean.
An old logging spur enters the site so vehicle access may be possible.
Another beach access recreation site lies in the inlet just southwest of the northern site. Its name is Amor Lake West Recreation Site. I didn't go look at it due to time constraints but it looked similar to the others.
On my way back I cruised into the arm of the lake that leads to Twin Lake. A campsite exists at the end called Lak la More Recreation Site. This site is part of the Sayward Forest Canoe Route.
Across from Sterling Island is the Sterling Beach Recreation Site.
In addition to these campsites is one more named Mr. Canoehead Recreation Site. Located in the southern bay where the trail leaves Amor Lake and heads towards Surprise Lake.
How to Get to Amor Lake Recreation Site
You can get to Amor Lake two ways. The first one which I took is to follow Long Lake road next to Brewster Lake.
Turn off of highway 19 onto the Menzies Forest Service Road and turn right onto Long Lake road.
At the top end of Brewster Lake is a small campsite next to the water with nothing but a fire pit. Some man-made stairs descend to the waters edge.
Follow the Long Lake road for roughly 7 km and turn right.
At this junction, will be a sign pointing towards Amor Lake. Cross over a small bridge and from there it is another 3 km to the campgrounds.
The road is a little narrow and rough at times but still travel-able by most vehicles.
Another way to get to Amor Lake and less gravel to drive on is from highway 19 just before Roberts Lake. Turn left onto the Blackwater Forest Service road and travel 9km to the campground.
Use the form below to find out how to get to Amor Lake Recreation Site using Google Maps.
Summarizing The Amor Lake Recreation Site
If you get lucky and find a camping spot at Amor Lake you will not be disappointed. The lake is one of the most beautiful I've seen on the island. 
And best of all is that it is free camping as of this date. 
There is a lot of exploring areas on this lake and around it. Hike the Sayward Forest Canoe Route to Twin Lake or Surprise Lake and you'll find more fishing opportunities. 
If you are looking for a place to paddle to and camp there are 5 different recreation sites available. During the summer months you may find it difficult due to the Sayward Forest Canoe Route participants.
While I stayed at Amor Lake Recreation Site, a small group of English kayakers paddled to Sterling Island.
They parked their vehicles in the overflow spot by the boat ramp. 
When they returned after 3 days, their comments were "bloody awesome".
The sunsets and sunrises while I stayed amazed me with the light filtering through the fog. I took a lot of photos from my boat and from shore.
Please Leave Comments or Ask Questions Below
Don't be shy, please leave us some comments good or bad because it is okay.  We love hearing from you regarding our website, articles and your opinion on what can make us better.  
We'll always reply within 48 hours to your comments or questions.  Please be courteous and polite even if you disagree with something as no one likes a bully.
Also don't forget to share us with your favorite social media site using the buttons at the top and bottom of every page so we can get the word out there about the beautiful camping opportunities that exist on Vancouver Island.