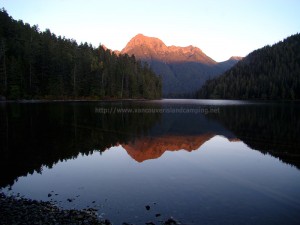 Schoen Lake Provincial Park is one of Vancouver Island's best kept secrets when it comes to remote wilderness camping.  The relatively untouched area is amazing to behold with lots of scenic shots of mountain tops and old growth forests.  Old unmaintained trails still exist at various points around the lake and with a little exploration you can venture through the old growth forests to smaller bodies of water in the surrounding mountains.
The park  itself covers more than 8429 hectares (20,828 acres) of wilderness with a Provincial Campground on the west side of the lake.  Schoen Lake is approximately 5 km long and similar to a banana shape. The lake is very deep with the maximum depth at the north end of the lake recorded at 252′.  Schoen Lake Provincial Park was established in 1977 as a way to protect the old growth forests and Roosevelt Elk summer range. An addition (259 hectares) to the park was created in 1995 near the Davie River watershed where the campsite now resides.
Mount Schoen is the peak that you see when you first step out on the beach at the natural gravel boat ramp between campsite numbers 5 and 6.  The peak rises up 1862 (6109 ft) meters and lies roughly half way down the lake on the southeast side. In the past there has been snow still on the higher elevations of the mountain during the summer months, however in 2015 there was a drought of epic proportions for Vancouver Island and for the first time in a long time there was no snow on it.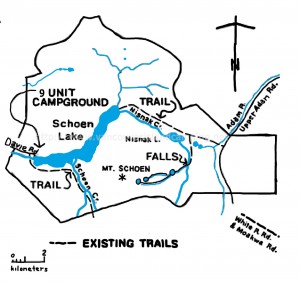 On the north east side of the lake is a trail named Nisnak and follows the creek up alongside of Mount Schoen to Nisnak Lake and further to the Upper Adam Road which winds through eastern part of the park parallel to the Adam River to provide access to the the local logging company which is logging just outside of the southeastern boundaries of Schoen Lake Provincial Park.
Nisnak Lake Trail is unmaintained and will require some patience when trying to hike it due to the lack of ribbons or markers identifying the trail. The trail winds along the Nisnak Creek through old growth forest at the base of Mount Schoen until it arrives at the lake and then continues on to the falls and upper small lakes on Mount Schoen.
It is unfortunate that BC Parks has never followed up on the Schoen Lake Provincial Park Master Plan and maintained the trails or provided another campground on the south side beside Schoen Creek.
These plans could have been implemented and still kept the park in pristine condition and maintain the integrity of the ecology and wilderness experience if done correctly. Be curious to know where all the money collected from the existing campground has been spent as it doesn't look like any has been spent on the area in quite some time.
Nevertheless the park provides a wilderness experience that most won't get to see in their lifetime if they don't get out into the great outdoors much. I highly recommend a visit to this superb provincial park campsite if you can find the time as you won't be disappointed.

The Wildlife in The Area
While I was at Schoen Lake campgrounds I didn't see any wildlife up close other than a Kingfisher, a couple of Loons and some Mergansers fishing for meals.  I did however see sign of elk and bear and heard an owl once or twice. The information kiosk states that there are bears, cougars and wolves that prey on the local Blacktail Deer and Roosevelt Elk population so keep your wits about you.  Especially if heading for the other end of the lake to hike the Nisnak Creek Trail.
I also noticed a couple of hawks but they were too far away to identify but looked like Red Tails. Ravens also flew around the area now and then but not in the numbers I've noticed at other Vancouver Island lakes.  There were a few ducks swimming around the edge of the lake but again I couldn't get close enough with my float tube to see what they were.
How to Get There
To get there, find your way to Vancouver Island, British Columbia, Canada and drive up the island highway to the city of Campbell River.  From there follow the signs to the village of Sayward. Stay on the highway (hwy 19) and follow the signs to Woss and Port Hardy. About 40 minutes past Sayward you will see a sign that says Mt Cain and it is there that you will turn left off of the highway onto Nimpkish Rd.
Use the form below to find out how to get to Schoen Lake Campground using Google Maps.
About 500 yards in there will be a junction in the road that has signs for Mt Cain/Schoen Lake and the road will split.  One direction takes you across the Davie River bridge towards Klaklakama and Vernon Lakes and the other route will take you to Schoen Lake.
Take the gravel road to your left that heads towards Mt Cain and Schoen Lake.  Stay to your right until you arrive at the Schoen Lake Provincial Park sign and you are only a few minutes from the campground. Take your time as the road is poorly maintained and narrow.
Campsite Information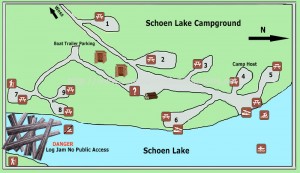 Once you arrive at the campgrounds you will see two pit toilets on your right and a little further along is the information kiosk where you will find the firewood shed and maps for the area. There is also a metal box for your overnight fees to be place inside an envelope (you provide) and insert into the box.  Make sure you provide the number of your campsite and the date for the night you are paying for.
The camp host is present from May 15 to September 15 of every year in campsite number four where you can pay for your overnight stays also.  The fees for staying in the campgrounds are $11.00 including taxes for the night and seniors are half rate except from June 16 to September 05, 2016 or the first Monday in September of every year.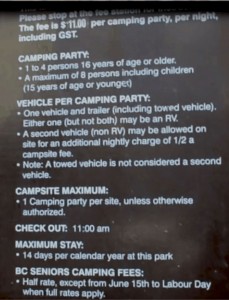 Camping is free from September 15 until November 1 then they close the gate due to extreme winter hazards and open the gate again on April 1st when camping is free until May 15. The camp host tells me that even during the heavy summer months they won't turn anyone away but you may have to be placed alongside the road until a space opens up.
The maximum amount of time that a camping party can stay is 14 days after which you must leave and make room for someone else. A camping party is defined as 1-4 persons 16 years of age or older. There is a maximum of 8 persons including children 15 years old and younger.
The standard rule is for one vehicle and trailer only per site unless you get authorization for a second (non rv) vehicle at a charge of 1/2 the normal nightly rate on top of your other vehicle nightly rate. A towed vehicle behind your original vehicle is not considered a second vehicle for the purpose of the rate.  In other words, if you arrive in a RV with a Jeep or Suzuki being towed behind it you will only be charged for one vehicle per night.
The Fishing on Schoen Lake
Fishing Schoen Lake is very productive and most anglers will troll using willow leafs or spoons.  While I was there I caught and released a couple of nice Trout from my float tube using a fly rod and dry flies. I also noticed a couple of salmon jumping around the log jam at Davie River so I have to assume that there is the possibility of Steelhead also being present in the system.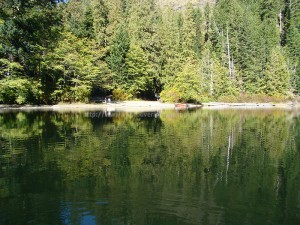 While I was there the wind picked up every day except for one around noon and lasted until roughly 4:00 pm. Shouldn't affect anyone with a motorized boat however.  There was a couple from Nanaimo with a 16 foot boat that also did very well fishing using spoons. Lawrence and Kay were their names and at one point Lawrence took me for a boat ride to the other end of the lake to take some photos and do a little fishing. A very nice couple who were heading to Vernon Lake the same day I left for home.
This is a relatively small lake in the big scheme of things when it comes to allowing motorized boats so if your two stroke boat motor uses a lot of oil and spews it through the exhaust back into the lake then please be responsible and try to not spend too much time on the water.  Every little bit helps and this is definitely a place to be kept in prime condition for future adventurers.
To Sum It Up
If you are looking for a great place to go camping on your next vacation then Schoen Lake Provincial Park is an excellent choice. With a small but efficient campground and hiking trails the area provides an opportunity to experience the wilderness in all its remote glory.
Remember that bears, cougars and wolves prey in the area and always be aware and careful when hiking. If you can take a boat ride to the other end of the lake you won't be disappointed.  The meadows and old growth forests are well worth the visit especially for photo opportunities.
Always be responsible and never leave garbage behind or disturb the environment. Practice good camping etiquette and this beautiful serene wilderness retreat will be around for everyone who comes after you and beyond.
Please Leave Comments or Ask Questions Below
Don't be shy, please leave us some comments good or bad it doesn't matter as we love hearing from you regarding our website, articles and what you'd like us to do to make this website better suited for your needs.  We'll always reply with 48 hours to your comments or questions.  Please be courteous and polite though even if you disagree with something as no one likes a bully.
Also don't forget to share us with your favorite social media site using the buttons at the top and bottom of every page so we can get the word out there about the beautiful camping opportunities that exist on Vancouver Island.