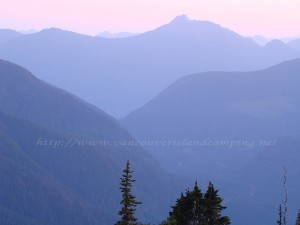 After two years of hiking a trail around my local lake with a good cardio workout for 50 minutes, I thought it was time for something a little more challenging. I decided to go hiking and camping on Crest Mountain Trail in Strathcona Park.
The whole reason for me hiking five days a week around the local lake was because of a day trip I attempted up Crest Mountain Trail 2 years ago. At that time I hadn't hiked for over 20 years but had kept myself in great shape (or so I thought).
It all started when I saw an image of the view from atop of Crest Mountain by a local photographer who came into my photography store. He was in his 70's and had just been up there a few weeks before. Why not I thought, I can do that too and get some great photos for my efforts.
Well I soon discovered that I wasn't in as good of shape as I first thought and also because I didn't read the sign at the trail head which stated it takes 4 hours one way to hike to the summit I had to turn around and head back. I thought I had gotten about 3/4 of the way there but had run out of time and didn't want to hike back in the dark. I vowed that next year I would attempt it again and go all the way this time.
One year went by and I still couldn't find the time to tackle the mountain again but I decided to make time. I made a decision to take my backpack loaded up with my dome tent and sleeping bag along with some necessities and my camera gear. I figured I would camp out at the top for a couple of nights to get the sunrise and sunset in my photos. After weighing my backpack (45 lbs) I was a little nervous, but I was pretty sure that I was in better physical condition this time and that I would leave at 9:00 am to leave myself room for any unforeseen variables.
I watched the weather forecast for a week before I was going to attempt the climb and saw that there was a high pressure system building with a long term outlook including the weekend that I had chosen to leave. The one day that looked like there may be a chance of rain would be the day I was going to hike back down. I packed a light tarp and some net twine just in case. I also took some light weight rain gear in case the weather man was off on his predictions.
How to Get There And Find The Trail Head
Use the form below to find out how to get to Crest Mountain Trail using Google Maps.
To get to the Crest Mountain Trail, travel west of Campbell River on Vancouver Island in British Columbia, Canada on hwy 28. The driving time is about 55 minutes to the pullout beside the information kiosk. You are about 15 minutes east of Gold River.  The pullout can hold about 5-8 vehicles depending on their size and how they are parked so please be courteous and think of others who may want to join you in the quest.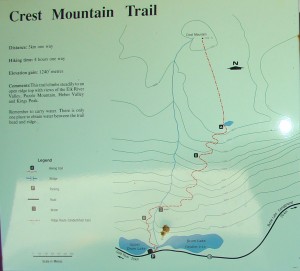 Crest mountain trail is a moderate to extreme hiking trail but not technical. The trail itself is very worn and easy to follow with an elevation change of 1240 meters. The first part of the trail begins at the parking area with a sign that indicates the trail information including time and kms. From there the trail crosses over a bridge that separates Upper and Lower Drum Lake and winds through an old second growth forest up and over the first of many rock humps in the trail. Then the climb follows Crest Mountain Creek and crosses a log bridge to start climbing away from the creek.
The Flora And Fauna of Crest Mountain
This is the beginning of the hard work and steeper climb up to the top. The trail switches back and forth over a very steep terrain with openings at rock bluffs once in a while that provides excellent photo opportunities. The forest changes from old growth that includes Amabilis Fir, Douglas Fir, Grand Fir, Western Hemlock, Western Red Cedar and Yellow Cedar to alpine growth consisting of Creeping Juniper, Mountain Hemlock and Sub Alpine Fir about 2/3 of the way up the trail. This provides you with a nice cool hike even on a hot summer day due to the shade provided by the trees.
As you get closer to the top however the trees become very thin and the sun beats down upon you making the climb even more difficult. The last 1000 feet is a climb up to the plateau where a small lake resides. From there you have about 20 to 30 minutes left on a much better trail with not as much elevation change. Catch your breath at the lake and then proceed on to the summit.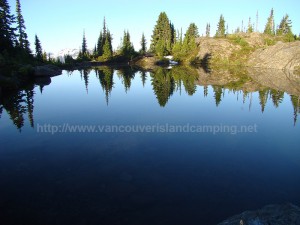 On your way you will pass some beautiful wildflowers, Heather and Mountain Hemlock. These include Arnica, Aster and Penstemmon. Once at the top the 360 degree views of the mountain peaks and valleys are some of the best you'll see in Strathcona Park. Big Den, Crown Mountain, Elkhorn Mountain, Elk River valley, Heber River valley, Kings Peak, Mt Colonel Foster, Puzzle Mountain and Queens Peak can be clearly seen in all their glory.
Watch The Mountain Weather Patterns
If you decide to hike to the summit knowing that the weather calls for rain at some point during your trek, make sure to pack accordingly as the Mountain Hemlock at the alpine level will provide no shelter from the elements due to its branches sloping upwards naturally at the ends.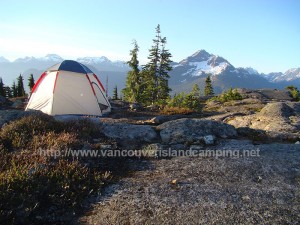 Shortly after arriving at the small lake I decided that I would set up my tent somewhere nearby and spend the night as the sky was starting to cloud over and I had experienced the odd sprinkle towards the end of the hike.
I hiked east of the lake to a rocky plateau that afforded me a spectacular view of all the mountain tops in their glory and set up my tent. I dug a small moat around my tent with a drainage channel to help the water run away from the tent. I then set up a tarp over the tent and tied it off to some shrubs in the vicinity to keep it from touching the top of my tent.
No more than 10 minutes after setting up my tent, unloading my pack and making my bed inside, it began to pour down rain and the wind picked up considerably. I was confined to the tent for roughly 3 hours until the sky opened up and it was nice again.
Although the light wasn't what I expected at that elevation I still managed to shoot some photos of the magnificent mountain views and the reflections in the small lake I had passed earlier.
The next morning I awakened to a beautiful river of fog flowing through the valleys below and set up my tripod and started moving from vantage point to vantage point to shoot photos. It was very mesmerizing to say the least.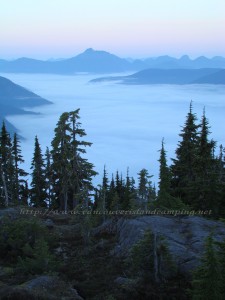 Living The Life of Riley
I spent two days on Crest Mountain and never did make it to the summit as there was more than enough to explore in the area in which I set up my tent. I explored all around the small lake and plateau that I was on including the back side where you could see Upper Campbell Lake and Big Den Mountains rising majestically over the Elk River Valley that drains into Upper Campbell Lake.
If you are up for a more arduous adventure you can carry on past the summit of Crest Mountain and head for Mt. Idsardi, Heber Mountain, Judson and Big Den Mountains. The trail isn't well marked past the summit so make sure it is a bright day when you start
When I decided it was time to leave the crisp clear beautiful nights and unbelievably spectacular views of some of the tallest peaks within the confines of Strathcona Park, I packed up my tent and gear.
The hike back down only took me 3.5 hours but by the time I arrived at my truck in the parking area I was pretty worn out. I must admit the hike back down the mountain was more of a workout than the hike up it. My calve muscles felt like they were rubber bands instead of muscles.
To Sum up The Overall Camping And Hiking Experience
I definitely recommend this hike to anyone who is interested and in relatively good shape. Even for a day hike it is well worth the effort as the views at the top will amaze you and leave an imprint on your mind that you won't forget for a long time.
Give yourself some extra time if backpacking in to spend a night or two as resting for a few minutes along the way up is highly advised unless mountain climbing is your passion and you do it on a regular basis. Also make sure to take a walking stick with you to help with your balance your knees will thank you, especially on the way back down.
Always follow the rules of the hiker and outdoorsman, take nothing but photos, kill nothing but time and leave no trace. Remember to pack out what you pack in, there are no open fires allowed in the alpine and please try to leave as small a footprint on the environment as you can. This way we can continue to enjoy it for an eternity for everyone who comes after us.
Click here for more articles on Camping in the Gold River area.
Please Leave Comments or Ask Questions Below
Don't be shy, please leave us some comments good or bad it doesn't matter as we love hearing from you regarding our website, articles and what you'd like us to do to make this website better suited for your needs.  We'll always reply with 48 hours to your comments or questions.  Please be courteous and polite though even if you disagree with something as no one likes a bully.
Also don't forget to share us with your favorite social media site using the buttons at the top and bottom of every page so we can get the word out there about the beautiful camping opportunities that exist on Vancouver Island.