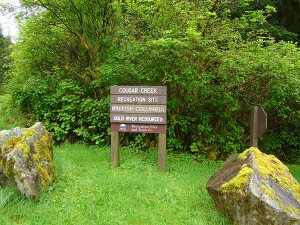 Nestled in between two small creeks that flow into Tlupana Inlet is one of the best camping sites on Vancouver Island.  It is a forestry recreation site named Cougar Creek with old growth sentinels watching over the users who grace its 60 campsites.
It beckons all recreational vehicles and campers to its remote destination in Nootka Sound where adventures await the outdoor enthusiasts. Truly a diamond in the rough that is free from September to May of each year for all who seek out the serenity and peace of mind it offers.
Affordable and Family Friendly Camping
Cougar Creek is very family oriented and budget friendly.  The cost per night is $12 ($6 for seniors 65+), $10/night parking or $40/week, $5 launching fee for users not paying the overnight fee.  The length of stay is 14 consecutive nights. The whole campground is very well maintained with 40 parking spaces, a gazebo in front of the wooden dock floats for your boat, fish cleaning tables, 7 pit toilets with one having handicap access, a gravel boat launch and garbage pickup.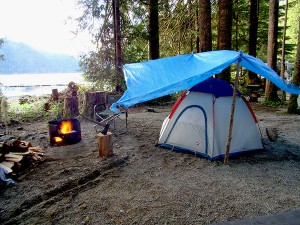 Each site has a sandy entrance to a good sized spot with a fire pit and picnic table.  Towering above each site is Douglas Fir Trees alongside Western Red Cedar.  The road that connects the campsites is gravel and well maintained. The recreation site is great for motorhomes, pickup campers, rv's, tents, tent trailers and don't forget your boat, canoe, kayak and quad.
An information kiosk is next to the Camp Host that details the rules and regulations for both the forestry site itself and the saltwater fishing opportunities in the ocean next to it. There are also postings regarding the wildlife in the area and next door is a fire wood box.
The campsite is open to paying customers from mid May until September of each year with an annual fishing derby held on the third week of August with proceeds being donated to the local Nootka Sound Watershed Society to enhance and protect the salmon stocks in the local waters.
Things to do While Camping
Fishing is the main draw during the spring, summer and fall months in Nootka Sound with hundreds of anglers travelling here every year to catch trophy halibut and salmon.  There are plenty of dungeness crabs and prawns that feed a lot of hungry campers. However, there are other attractions such as caving, hiking, kayaking, photography and whale watching,  experiences that will boggle the mind.
Cougar Creek is pet friendly also so bringing your dog is no problem as long as you scoop after your pet does his or her thing.  Many campers are throwing sticks into the ocean for their dogs to retrieve and get a refreshing break from the heat of summer.
The Beginning of Your Camping Adventure
Your journey starts by finding your way to Vancouver Island from the place where you reside.  This can be achieved by taking one of three ferry rides across the body of water that separates Vancouver Island from the Mainland of British Columbia and the USA.
Use the form below to find out how to get to Cougar Creek Recreation Site using Google Maps.
Anacortis, Horseshoe Bay and Tswassen ferry terminals are the places where you hop a ferry to cross over to the island where you will drive highway 19 to Campbell River.  From there you will take highway 28 west to Gold River.  After arriving in Gold River you will not turn into the township but continue to follow the signs that lead to the village of Tahsis.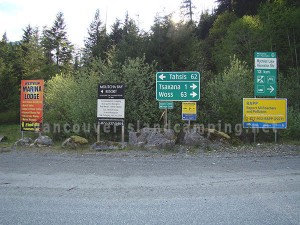 About 3 km past Gold River you will cross over a bridge and come to a tee intersection with signage that point to Tahsis and Woss.  Take the left turn towards Tahsis for about 300 yards where you will come to a forest service road called the Head Bay Road.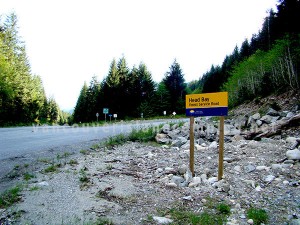 Turn right at this branch and drive for about 23 km where along the way you will climb to the Bull Lake summit passing Upana Lake and the Upana Caves a popular and easy cave system that follows along the Upana River which runs from Bull Lake to Upana Lake.
From the summit you drop down to the Tlupana River via a series of three steep hills that can test the brakes on any vehicle if your speed isn't below 50 km/hr. Take your time and you'll do fine as the road is in excellent condition.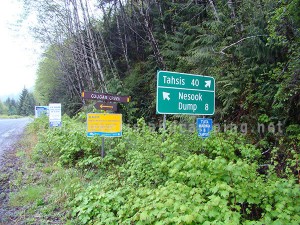 Once at the bottom of the Tlupana River valley you will cross the main bridge that crosses the river and head another km where you will see a sign on the right side of the road that points you to the Nesook log sorting yard for Western Forest Products.  There is a small sign that also says Cougar Creek.
The road will branch off to the left here and that is the direction you want to head.  You will travel on a gravel road for about 10 km to the log sorting yard.  This road is a lot worse off than the Head Bay Road so take your time here so you don't cause any damage to your vehicle(s).
At the log sorting yard you will veer to the left and travel another 4 km to a view point of Nootka Sound with a small pullout for photographers to capture the beautiful scenic landscape.  Look down to your left along the shoreline and you'll see boats tied up at the docks of your destination about 1 km further down the road to Cougar Creek.
You start down the hill towards the campgrounds and after a km you will see the sign at the entrenance with a yellow gate that should be open depending on the time of day you arrive.  Across the road is a parking lot for boat trailers and the overflow for campers.  Turn into the campsite and about 100 feet in is the camp host's trailer where you can register and find out more information.
Enjoy your stay and take in the beauty of one of Vancouver Islands best kept secrets known only to the angler who comes up every year to fish for dungeness crab, halibut, prawns and salmon.  During the months of July, August and September this campsite becomes very crowded to the point of discomfort for those who don't fish.  Which is why most kayakers or explorers launch from Cougar Creek and head to another remote area to set up a tent to get away from it all.
Here is a 10 minute video walk through of the 40 campsites, boat dock, pit toilets and old growth forest that encompasses the recreation site. Enjoy
Please Leave Comments or Ask Questions Below
Don't be shy, please leave us some comments good or bad it doesn't matter as we love hearing from you regarding our website, articles and what you'd like us to do to make this website better suited for your needs.  We'll always reply with 48 hours to your comments or questions.  Please be courteous and polite though even if you disagree with something as no one likes a bully.
Also don't forget to share us with your favorite social media site using the buttons at the top and bottom of every page so we can get the word out there about the beautiful camping opportunities that exist on Vancouver Island.