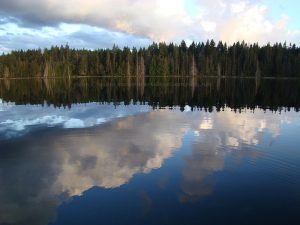 Merrill Lake Campground on Vancouver Island just northwest of Campbell River is a very pretty campsite. 
GPS coordinates are: 125°33,30″W, 50°3,40″N.
Nestled among older second growth and a few old growth timber, Merrill Lake Campground is very serene.
There are only two campsites with one not so good (except for a tent). The preferred campsite is by the lake as it allows for a longer camper and a tent if necessary.
A natural gravel boat launch will fit a larger boat trailer.  Depending on the size of your vehicle there is  enough room to turn around if needed.
There are two picnic tables, fire pits, and a pit toilet. The picnic tables are not the best but one is definitely better than the other. [Read more…]