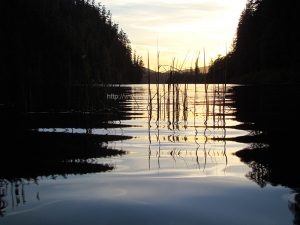 Kathleen Lake will surprise you with its beauty and serenity.  This lake caught me off guard for sure when I first arrived. It looked a little run down from a lack of maintenance that I had noticed when first driving in. As I was the only one there I set up my camper and decided to stay anyways.
Three campsites with room for one at the bottom of the road by the boat launch are available. During my video walk through there were two other campsites that have been left alone and are now overgrown.
One had the remnants of an old picnic table that was rotten and decayed to the ground. It has a grassy area where you could pitch a tent in comfort and the walk to the beach is a short one.