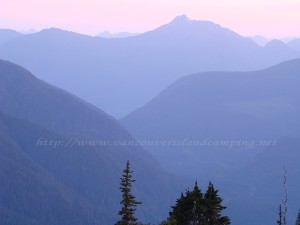 After two years of hiking a trail around my local lake with a good cardio workout for 50 minutes, I thought it was time for something a little more challenging. I decided to go hiking and camping on Crest Mountain Trail in Strathcona Park.
The whole reason for me hiking five days a week around the local lake was because of a day trip I attempted up Crest Mountain Trail 2 years ago. At that time I hadn't hiked for over 20 years but had kept myself in great shape (or so I thought).
It all started when I saw an image of the view from atop of Crest Mountain by a local photographer who came into my photography store. He was in his 70's and had just been up there a few weeks before. Why not I thought, I can do that too and get some great photos for my efforts.
Well I soon discovered that I wasn't in as good of shape as I first thought and also because I didn't read the sign at the trail head which stated it takes 4 hours one way to hike to the summit I had to turn around and head back. I thought I had gotten about 3/4 of the way there but had run out of time and didn't want to hike back in the dark. I vowed that next year I would attempt it again and go all the way this time. [Read more…]