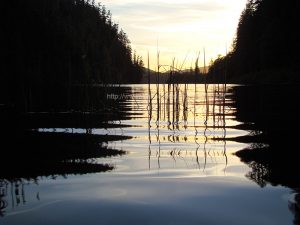 Kathleen Lake Campground will surprise you with its beauty and serenity.  This lake caught me off guard for sure when I first arrived.
It looked a little run down from a lack of maintenance that I had noticed when first driving in. I set up my camper and decided to stay anyways.
There are three campsites with room for one at the bottom of the road by the boat launch.
During my video walk through I noticed two other neglected campsites.
On a grassy area you could see the remnants of an old rotten picnic table. You could pitch a tent in comfort and the walk to the beach is a short one.
Kathleen Lake Campground Access
The road to the campground is good but there is a short hill heading to the campsites and the lake.  This hill looks like it may be a bit of a challenge during a rain event. 
If someone is camping at the end of the boat launch you may have difficulties turning a larger vehicle around.
At the top of the hill there is a small road that leads to a campsite on the left. The campsite has room for two campers with a couple of fire stone pits for your campfire. 
Looks like there used to be a picnic table as there is a small concrete pad.  There is a short trail to the boat launch and beach.
The road at first glance seems to be impassable due to the overgrown bushes.  I did drive into it with my truck and camper with no problems and was able to turn around to get back out.
Close to the bottom of the hill is another campsite on the right where the pit toilet also resides.  Another campsite is just before the boat launch on the right.  The natural boat launch is wide enough for a couple of small campers to set up at the far end.
There are only two picnic tables and one fire ring. Previous campers have set up fire stone pits where there are no fire rings.  A newer looking pit toilet exists albeit dirty inside so I decided to use my camper.
Immediately I noticed the peace and quiet that was all around me.  I began to relax after my ordeal in finding the lake from the main road.  Originally drove past the turnoff and ended up with a flat tire (actually just a slow leak).
The first night it rained which was a welcome relief to the numerous bugs that engulfed me upon my arrival.  Probably just an early season hatch but make sure you bring plenty of bug repellent in case.
The following day saw some visitors from Port McNeil who came to the lake for a picnic. They offered me help to repair my flat tire (which went completely flat overnight).
As I had a spare tire, I thanked them for their offer and politely declined.  I gleaned a lot of local information from them on the fishing and shoreline of the lake.
How to Get to Kathleen Lake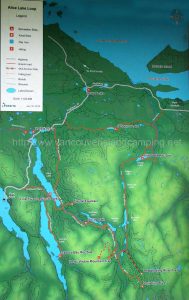 To get to Kathleen Lake, you must drive up Vancouver Island towards Port McNeil taking highway 19 from Nanaimo or Victoria.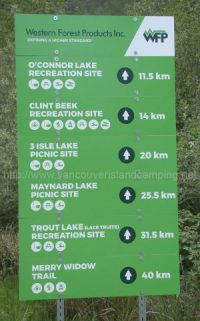 Kathleen Lake is small lake that exists on the "Alice Lake Loop".  This loop starts 2.5 km from the Port McNeil turnoff and heads west on the Keough Main logging road. 
Western Forest Products has a large sign at the beginning providing distances to various lakes in the loop.
A second way to get there with less traveling on gravel roads is the Port Alice Road or highway 30. The turnoff is 13 km north of the Port McNeil turnoff on highway 19.
I decided to take the closest route to save time. This allowed me to see the other lakes along the loop to Kathleen Lake from the east.
A well maintained gravel road with other signage along the way helps you find your destination. Total distance from the highway 19 and Keough Main junction to Kathleen Lake is 39.5 km. Along the way are other various campgrounds and recreation areas that are a short distance from the Keough Main line.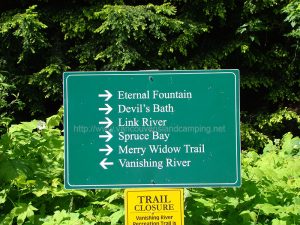 Due to a lack of signage from Maynard Lake on I ended up missing my turnoff.  The last sign I saw pointing to Kathleen Lake stated only 14 km to go. 
When I realized I had ventured too far, I turned around.  Back at the 35.5 km sign, I turned onto the Merry Widow Trail road.
From this turnoff it is another 6km where you will see a sign that says Kathleen Lake pointing to the right. There are also signs pointing to some karst areas to the left. 
This is also the way to continue on to Alice and Victoria Lakes. Make sure you turn right here for Kathleen Lake Campground.
From here you are only a few hundred yards from the campgrounds. Drive in until you see the campground sign and turn to your left.  The deactivated road to the right goes a short distance after crossing the Benson River.
Use the form below to find out how to get to Kathleen Lake Campground using Google Maps.
Fishing on Kathleen Lake is Good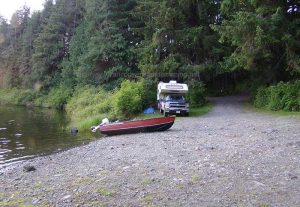 After I got my camper leveled and boat removed from the camper boat rack, I put my boat in the water.  I proceeded to troll out the small bay to the mouth of the Benson River just to the right of the campground.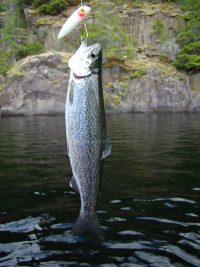 The lake is fairly deep but has many shallow sections with submerged logs along the shoreline.  This is especially true at the mouth of the Benson River.
While fishing I had a few strikes but nothing hooked up.  I assumed small fingerlings feeding on the nutrients and insects were the culprits.
The wind was still blowing pretty good and the rain started falling so I called it quits for the night.
The next day was different and I got up and headed out again. After about 20 minutes I caught my first trout.  It was a Rainbow Trout that took the worm behind my Gibbs spinner. Not much size to it and I released it back into the water which is what I always do.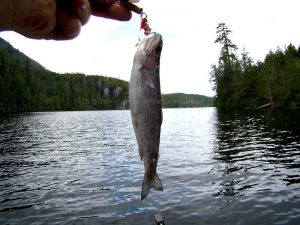 I caught and released a few more small Rainbow Trout about the same size. Decided to head in for lunch and spend my afternoon relaxing at camp.
The next morning was spectacular as far as the weather and water conditions.  Started trolling along the northern side of the lake and hooked into a few more smaller Rainbow Trout.  This time I was using a small Tomic Plug which seemed to be working rather well.
Hooked into something a lot bigger about 1 hour into my trip which stripped off a lot of line from my reel. Lost it after it wrapped around one of the many logs just under the surface of the waters edge.
This happened at the western end of the lake and I filed that one away to memory.  Caught and released a few more Rainbow Trout before heading back to camp.
Wildlife at Kathleen Lake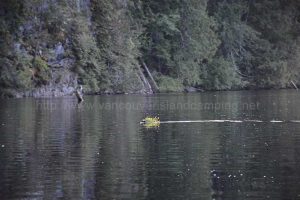 While I was shooting my walk through video of Kathleen Lake campground, I witnessed a black bear foraging through the salmon berry bushes at the top of the campgrounds by the Benson River bridge. Most of the days I could also hear an owl hooting but never could find him.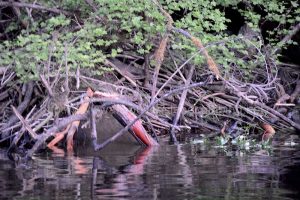 There are lots of different types of birds and I saw one diving duck swimming around the campground end of the lake.  I tried to capture his image on a photo but couldn't get close enough before he would fly away.  A black and white butterfly landed on my arm for a rest while I was fishing which was a special moment.
One evening while I was sitting in my boat waiting for the sunset to provide me with the right colours for my photo, I noticed a branch moving across the surface of the lake. 
After zooming in with my camera it became apparent it was a beaver dragging home his supper.  I watched him swim towards the shoreline and rowed over for a closer look.
Found his den on the shore of the lake and what looked like a few branches just outside waiting for the dinner bell.  First time I've actually seen a beaver den on the side of a lake instead of in a river or stream at the outflow or inflow of the lake.
To Sum Up Kathleen Lake Campground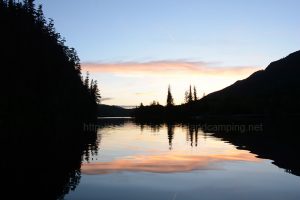 All in all I would say that Kathleen Lake is a great spot to camp if you are looking for some quiet time with few others around you.
While I was there during the middle of June I only saw 4 different vehicles venture down to the boat ramp and back out again. 
One larger group came and had a picnic at the far end of the boat ramp but left after a few hours.
Another SUV came and spent Saturday night at the boat launch then left Sunday afternoon to continue on their journey around the Alice Lake loop. 
They had a bit of a tough time driving up the short hill because of the loose gravel but once they figured out to stay to one side they made it easily.
I thoroughly enjoyed my time at the campground but would love to see Sites and Recreation come in and open up the other campsites and provide some more picnic tables and fire rings. 
The pit toilet is in need of some attention also but not much. I believe it wouldn't take much work to accomplish this task and it would provide more room for campers and a better experience overall.
If you happen to spend some time at Kathleen Lake campground, you too will enjoy your stay. It would be an excellent base camp for anyone with a quad.
From there you could explore the many karst features and old mines that exist on the Alice Lake loop road.
I recommend you check out Kathleen Lake campground and please if you do leave a comment telling us how your adventure went.
Please Leave Comments or Ask Questions About Kathleen Lake Campground Below
Don't be shy, please leave us some comments good or bad it doesn't matter as we love hearing from you regarding our website, articles and what you'd like us to do to make this website better suited for your needs.
We'll always reply with 48 hours to your comments or questions. Please be courteous and polite though even if you disagree with something as no one likes a bully.
Also please share us with your favorite social media site using the buttons at the bottom of every page. Then we can get the word out about the beautiful camping opportunities that exist on Vancouver Island.